After 30 years of winemaking, Dolum Estates was born to create limited quantities of super premium Napa Valley red wines. Each unique and elegant - classics and unmistakably Napa.

All the fruit for Dolum Estates wine is taken from small sub-districts throughout the Napa Valley, including Oakville, the Stags Leap District and a select few others. This persnickety selection choice produces exceptional fruit that is surrounded by some of Napa Valley's most renowned producers.
The power, softness and elegance of our chosen fruit, coupled with Chad Alexander's winemaking style, results in generous wines with great depth of flavor that are also elegant, multilayered and finely balanced.
Dolum also produces wine from a low-yielding 40+ year-old vineyard on Oakville crossroad in the eastern side of the AVA. The vineyard was originally planted in 1979. Today, second and third-generation family members meticulously tend the vines. Traditional winemaking and maturation in French oak have ensured a complex, full-bodied Cabernet Sauvignon which will reward long-term cellaring.

The Vineyard
The vineyard consists of shallow, sandy loam soil over superb deep red clay and limestone, providing ideal conditions for Cabernet vines.
The Winemaker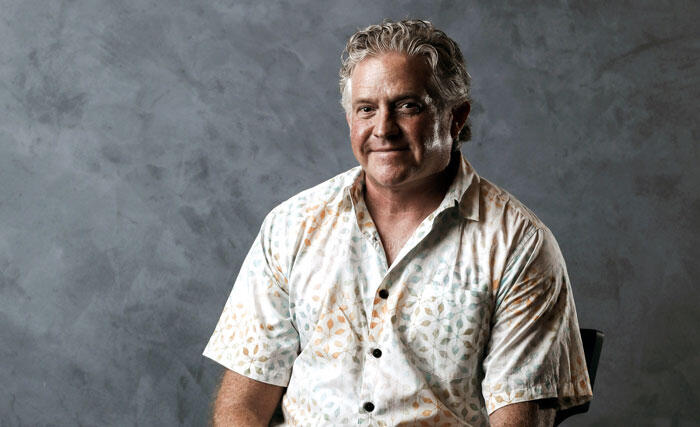 Chad Alexander
Winemaker Chad Alexander's winemaking vision is of extreme focus on every detail-from the proper soil, to his proprietary planting structure that creates "total vine balance".His exacting, almost extreme, winemaking philosophy allows the grapes to be in the perfect condition to create wines that continue to rival the best in the world.

2020 Vintage
Growing Season
The 2020 season will be remembered for factors beyond the normal measurements. In Napa Valley, it was a warm, dry winter and we didn't start to see rain and cold weather until the end of March. While the mild spring season gave us a great early start, our winery worked under extensive safety protocols due to the COVID pandemic. The harvest proved to be one of the most challenging in history, our winemakers remain not only optimistic but committed to bottling wines of the highest quality.
Winemaking
Summer brought very cool mornings and very warm days. This build-up to harvest was interrupted by two wildfires as we turned to the fall. The red wine harvest was a bit smaller than usual, but we were able to move forward with red wine vinification.The story of this vintage will continue to unfold over the years to come.

Napa Valley Cabernet Sauvignon
93 Points, James Suckling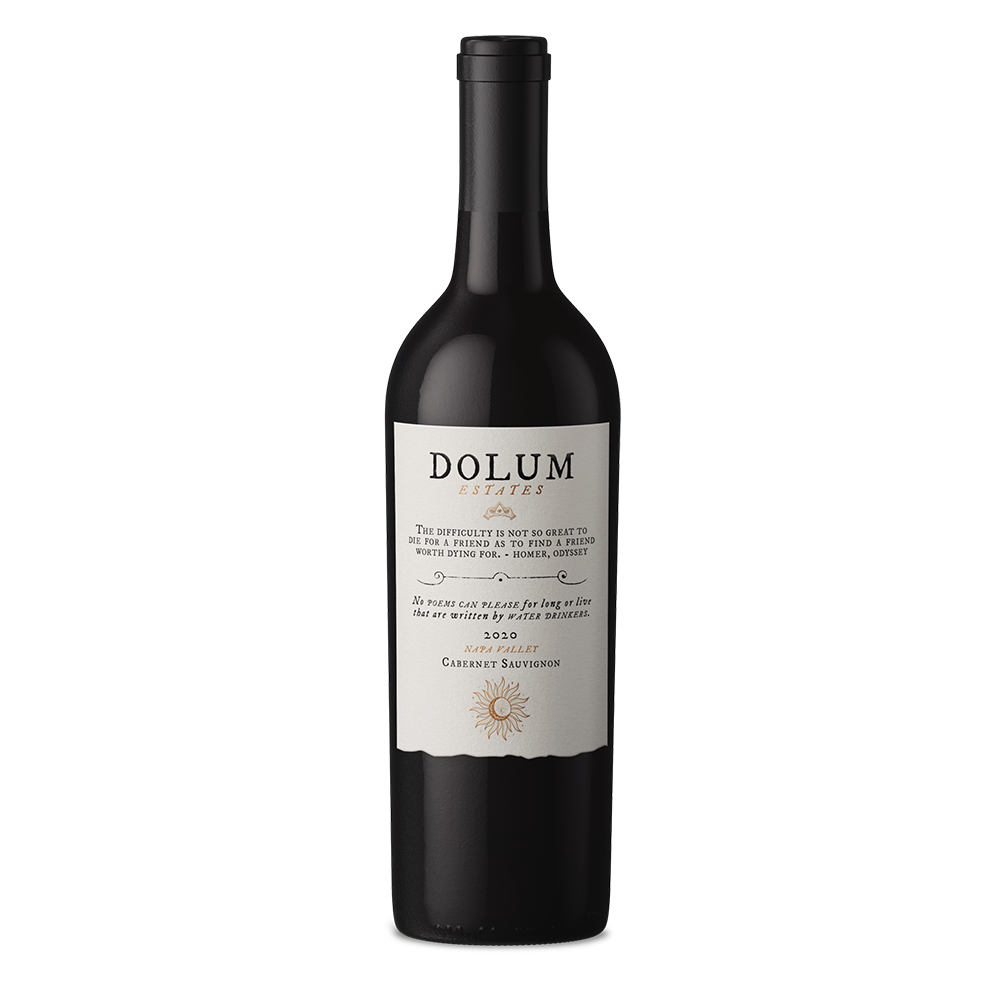 Tasting Notes
2020 Dolum Napa Valley Cabernet Sauvignon is rich, inky and wonderfully deep, that packs a serious punch. A blast of inky dark fruit, chocolate, spice, and licorice adds juiciness.
A polished and inviting Cabernet that exhibits warm cassis and gently muddled plum fruit flavors drifting through mocha, toasted vanilla and mushroom, while a soft savory gives legnth to the finish.Blackcurrant with dark cocoa and coffee attribute adds to its complexion. Full-bodied, yet the tannins are luscious and ethereal, presenting a velvety texture at the end.Aromas of ripe dark berries, sweet tobacco, roasted spices and bark. Full-bodied with velvety, fine-grained tannins and polished texture. Notes of black coffee, walnut and dried leaves to close. Lingering and slightly chewy finish. - James Suckling
$100 | Buy Now

Oakville Cabernet Sauvignon Cask #3
95 Points, James Suckling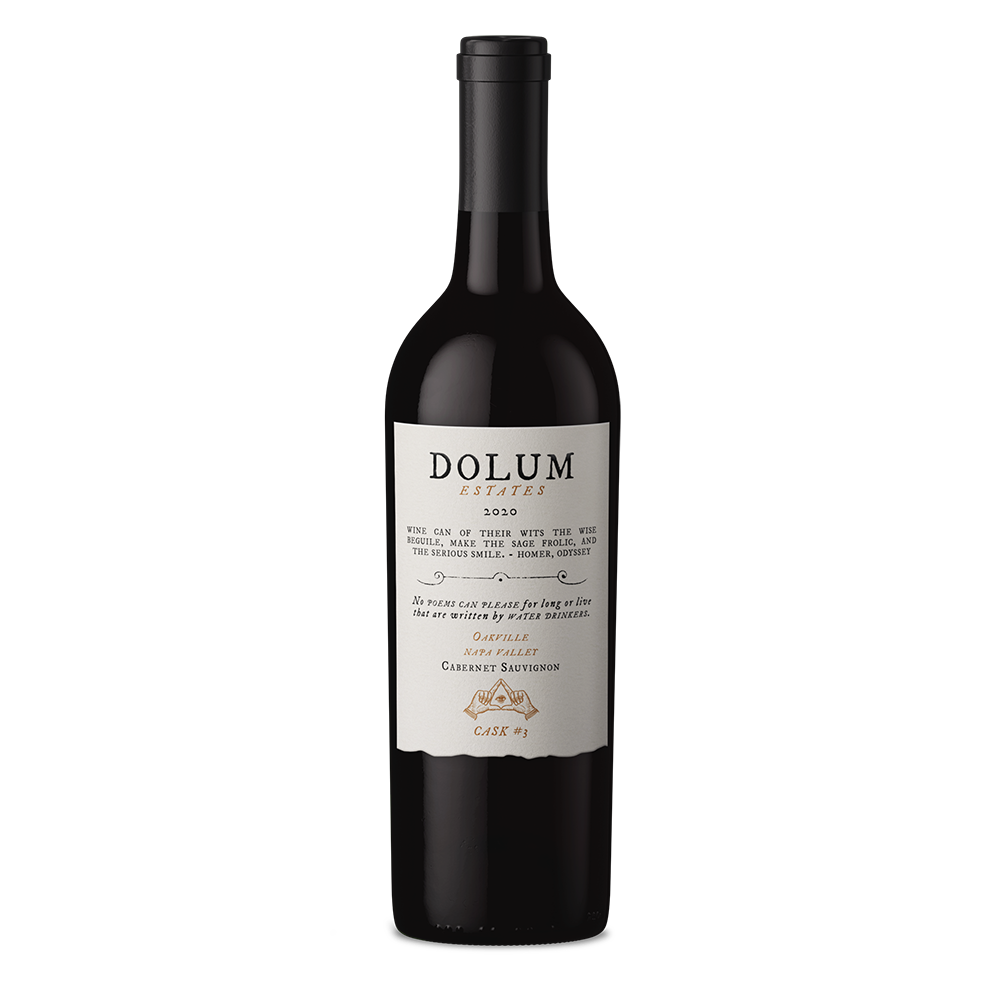 Tasting Notes
2020 Dolum Oakville Cask 3 is bold and beautiful, demonstrating aromas of dark cherries, plum, spices and cigar box.
The rich and concentrated flavors of wild blackberry, cassis and fresh herbs are in perfect tranquility with the prosperous, velvety texture and beautifully integrated tannins. Radiant acidity and well-defined structure combine with lush suppleness that contributes to the refined silky finish.Attractive aromas of blackcurrants and brambleberries with toasted cedar, anisette, cinnamon and tobacco leaf. Ripe and mellow on the palate with a full body and an array of plush, finely polished tannins. Complex and refined with a succulent, bittersweet, dark-fruited finish. - James Suckling
$140 | Buy Now

SLD Cabernet Sauvignon Cask #28
93 Points, James Suckling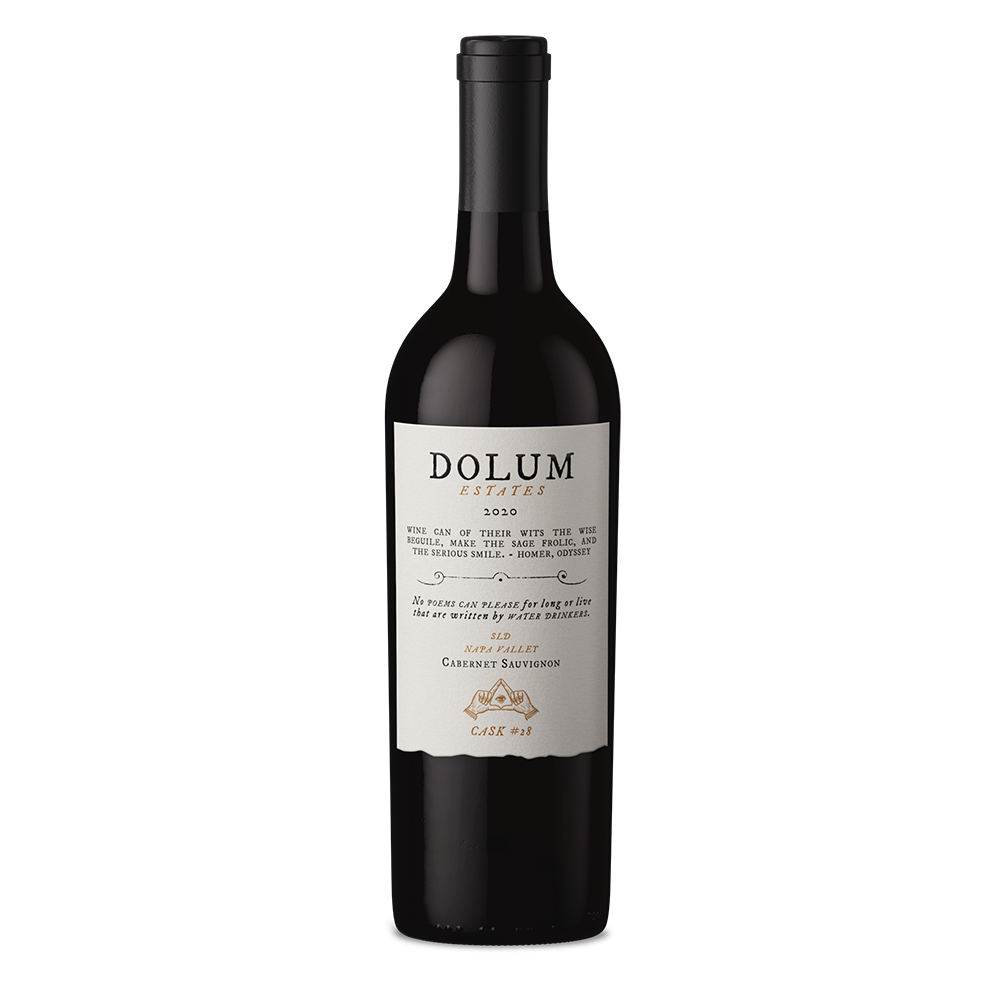 Tasting Notes
2020 Dolum SLD Cask 28 Cabernet Sauvignon is lush and fleshy, with cassis, boysenberry and blackberry notes guided by hints of alder and mesquite.
Stays open but defined through the finish, with a buried hint of sweet tobacco. A rich, layered beast, this has a nose rife with currants, blackberries, vanilla and light toast with flavors of mocha, plum, and Bing cherry that mingle harmoniously on the tongue.Notes of dark spices, crushed walnuts, black olives and coffee with a rich dark-fruited backbone. Medium- to full-bodied with sleek, polished texture and silky tannins. Notes of mellow blackberries and currants with some earthiness to it. - James Suckling
$120 | Buy Now
Sonoma County Cabernet Sauvignon Cask #11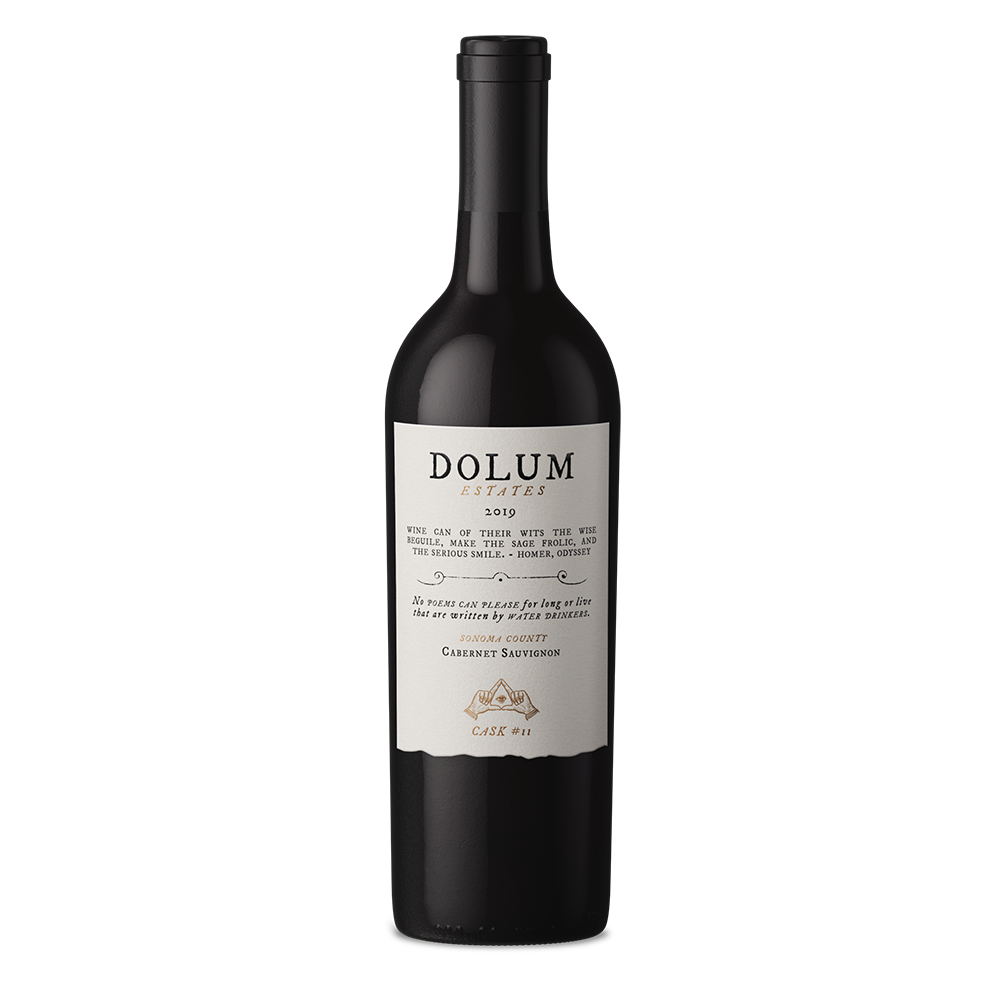 Tasting Notes
2020 Dolum Sonoma County This dark-hued Cabernet Sauvignon is rich and shows sumptuous black cherry and blackberry fruit that intermingles with lush milk chocolate to create a smooth, silky cab that has uncanny elegance and finesse.
100% Cabernet Sauvignon
92% Alexander Valley - 8% Oakville Napa Valley Vineyards, SJ Ranch
$82 | Buy Now

2019 Vintage
Growing Season
The beginning of the 2019 growing season was defined by copious rainfall and late soil moisture. The long, warm summer saw very few extreme heat events, with foggy mornings setting the stage for vibrant and expressive wines. The long, relatively mild finish to the season, not without its moments of unpredictability, helped to preserve freshness and finesse in the fruit with abundant hang time teasing out great color, structure and soft tannins.
Winemaking
A long, warm summer and mild finish to the season produced exceptional fruit with bright acidity and ample texture promises an amazing vintage. These grapes were harvested, de-stemmed into open-top fermenters and fermented warm with hand pump-overs twice a day for 6-8 days on skins prior to pressing. After pressing off skins the wines were filled to a mix of 30% new French oak. The wines completed primary fermentation and underwent natural malolactic fermentation in barrel, maturing in barrel for sixteen months prior to bottling.

Oakville Cabernet Sauvignon Cask #3
95 Points, James Suckling
92 Points, Deb Dunnuck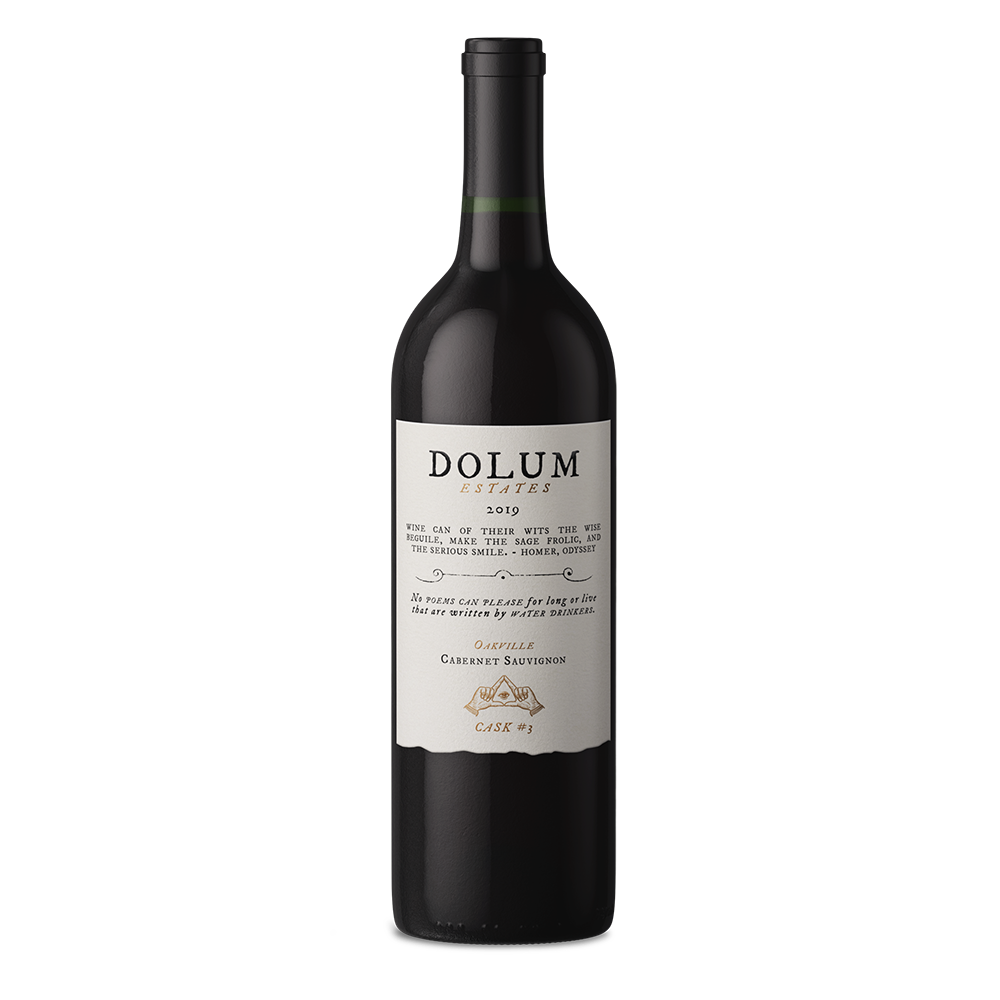 Tasting Notes
2019 Dolum Oakville Cask 3 vintage shows the quintessential Oakville cabernet notes of cassis, wet earth and black cherry.
An intense, dense and long palate shows the lift and brightness that Oakville brings to cabernet. There is bittersweet chocolate, spearmint, tobacco as the wine tails off to a long and silky finish. Luscious, rich and lavish, this wine shows attributes of toasted spice, wisps of black pepper and cocoa. Provocative firm, chewy tannins with rich black cherry, espresso and a pleasing finish.
$120 | Sold Out

SLD Cabernet Sauvignon Cask #28
93 Points, The Wine Advocate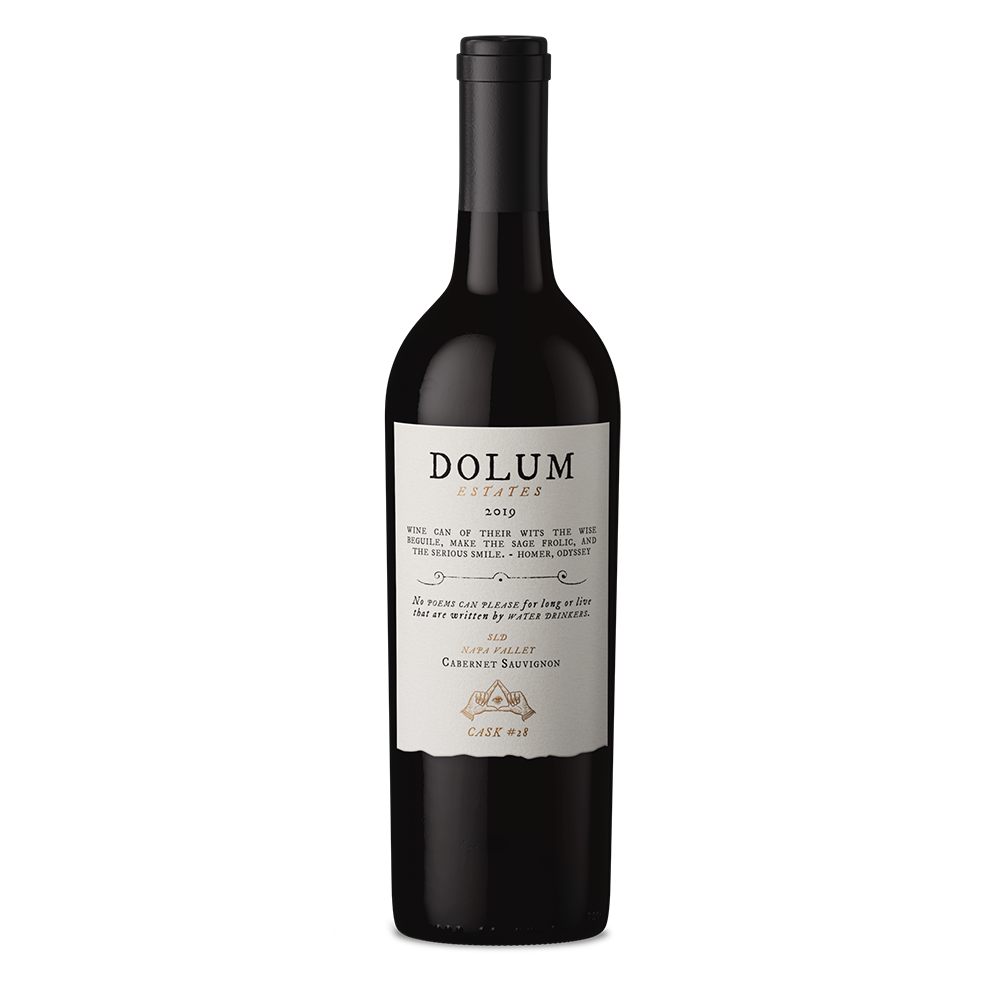 Tasting Notes
2019 Dolum SLD Cask 28 Cabernet Sauvignon bursts from the glass with aromas of clean, black fruit such as crushed blackberry and a hint of tea leaf.
Sumptuous black cherry and blackberry fruit intermingle with bitter chocolate with a hint of sage to create a smooth, silky red that boasts elegance and finesse. A rich dark-hued red in the glass, this full-bodied Cabernet drinks like velvet with a lengthy, provocative finish.Hints of sage and bay accent black cherries and red currants on the nose, while the palate is medium to full-bodied, silky and fine, with a lingering, seductive finish. - The Wine Advocate
$120 | Buy Now

Rutherford Cabernet Sauvignon Cask #14
93 Points, James Suckling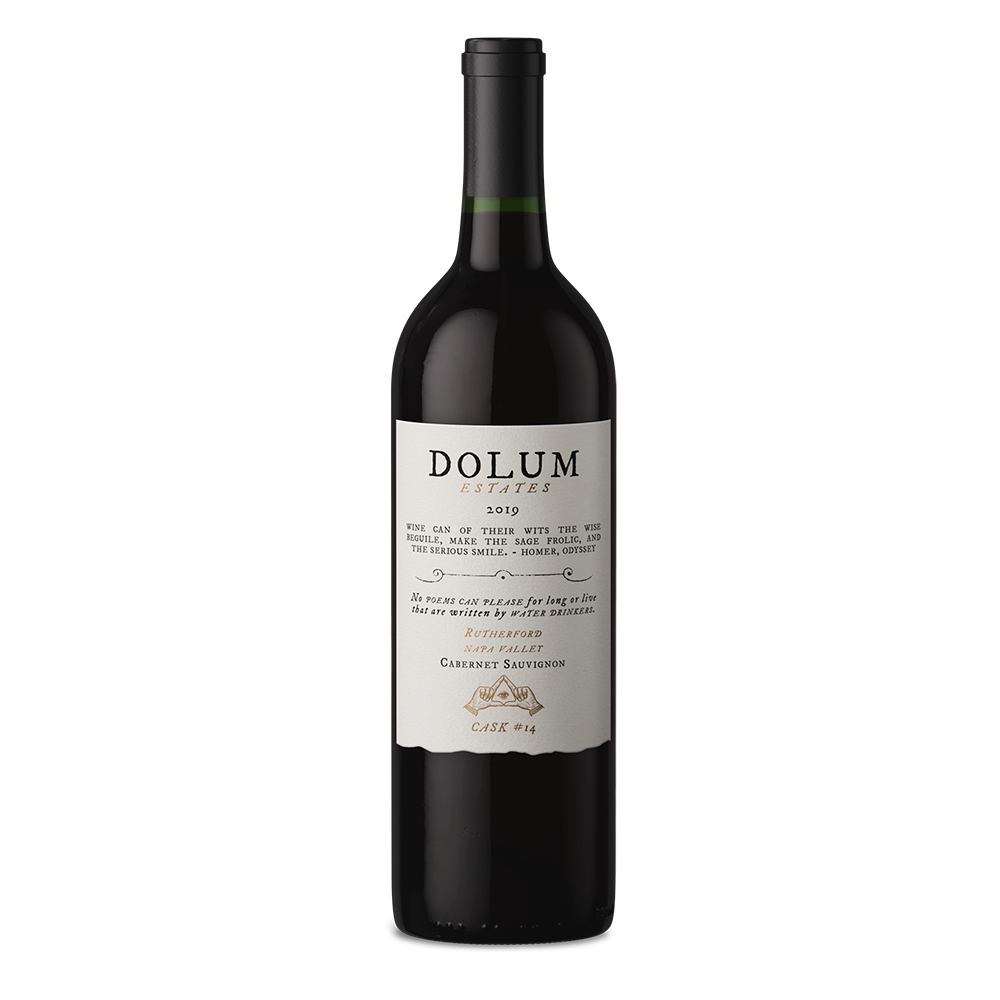 Tasting Notes
2019 Rutherford Cask 14 vintage shows impressive depth, richness and refinement on the palate.
Generous black fruit flavors are accented by hints of dried herb, mocha and that famous Rutherford dustiness against a backdrop of plush tannins. The mouthfeel is rich and dense with blackberry liqueur, full-bodied opulence, stunning purity. Complex yet approachable with the depth and concentration to age beautifully for many years to come.Aromas of blackcurrant, tobacco leaf and eucalyptus. Full-bodied with taught tannins. Sweet paprika and red and black berries mix on the palate. A pleasant blend of fresh and savory. Layered and bright.- James Suckling
$120 | Buy Now
Napa Valley Cabernet Sauvignon
94 Points, James Suckling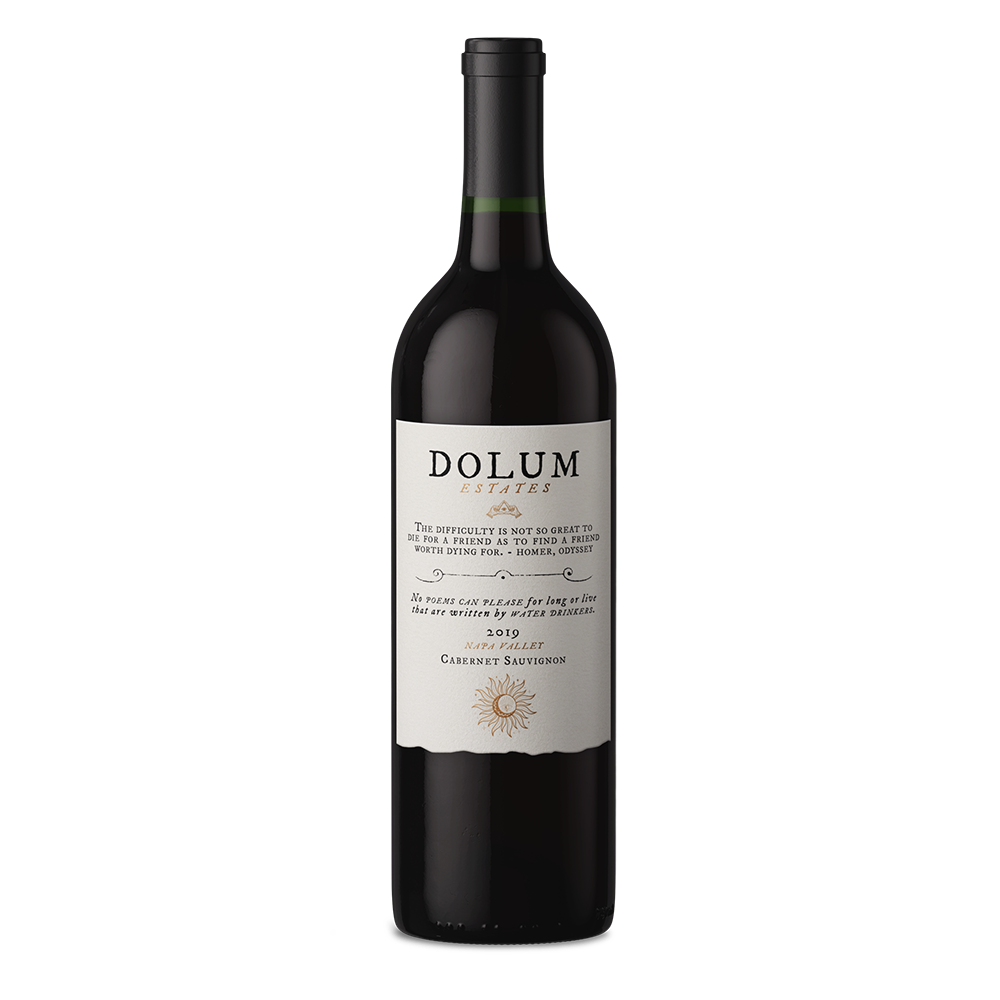 Tasting Notes
2019 Dolum Napa Valley Cabernet Sauvignon has expressive aromas displaying roast plum, dark rose florals, chocolate, dark fruit, cinnamon and some sweet toasty oak.
Intensity is first and foremost. It unfurls in the glass, revealing dark plum and black truffle scents infused with warm summer berries. Perfectly uniform acidity, wholly refined tannins, with silken texture, all in a sense of tranquility.Aromas of crushed blackberry, plum, blackcurrant and menthol. Full-bodied with powdery tannins. Succulent and fruity on the palate with a core of black fruit and berries. - James Suckling
$100 | Buy Now
Sonoma County Cabernet Sauvignon Cask #11
96 Points, Tasting Panel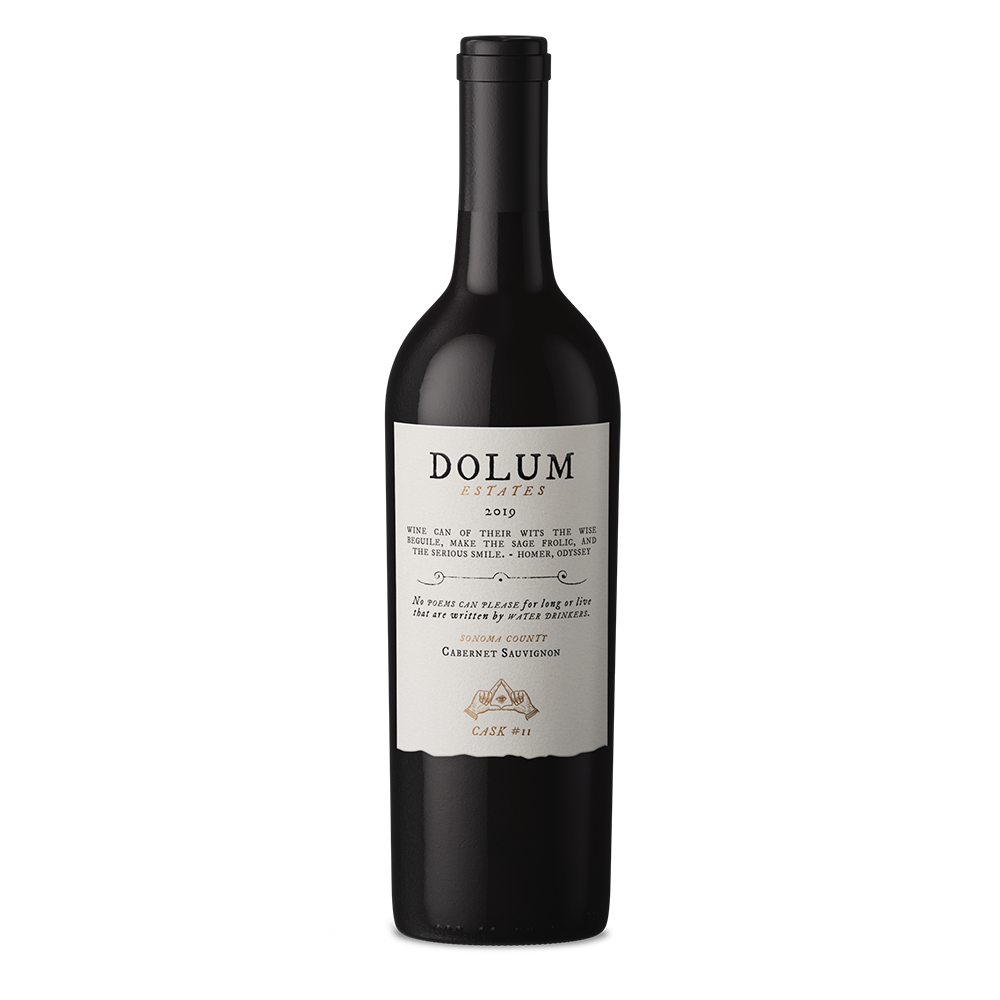 Tasting Notes
2019 Dolum Sonoma County Cabernet Sauvignon has a red dark color with bright red reflection filling the glass as dark and red fruits sing across the nose giving way to dark cherry and blackberry sensations on the palate with a vivid and a solid tannic structure underlining a chewy, yet silky finish.
Juicy, sumptuous, and silky, with blackberry preserves and round, supple tannins. So approachable, with a gliding, deep dive into tilled soil, espresso, and black beans beneath its soulful core. - The Tasting Panel100% Cabernet Sauvignon
95% Alexander Valley - 5% Oakville Napa Valley Vineyards, SJ Ranch
$82 | Buy Now

2018 Vintage
Growing Season
The 2018 vintage was one of great reprieve after 2017 and belongs in an echelon with the finest of the past two decades. It was absent of challenges that plagued many of the previous years, ranging from drought, low yields and heatwaves. When compared to recent vintages, it is most synonymous with the highly acclaimed 2016. 'There were a lot of synergies in both the growing season and the wines. They have a lot of the same energy, expression and life.
Winemaking
Steady, warm temperatures made for a cool, unhurried harvest, and our healthy leaf canopies, allowed the fruit to hang longer and ripen very slowly on the vine. Harvest wrapped the first week of November with our Cabernet Sauvignon in the Stags Leap District. The extended time on the vine and the temperate weather gave a fantastic concentration of ripe flavor and density to the grapes along with high acidity in the wines, resulting in a vintage with natural balance and finesse.

Oakville Cabernet Sauvignon Cask #3
96 Points, JamesSuckling.com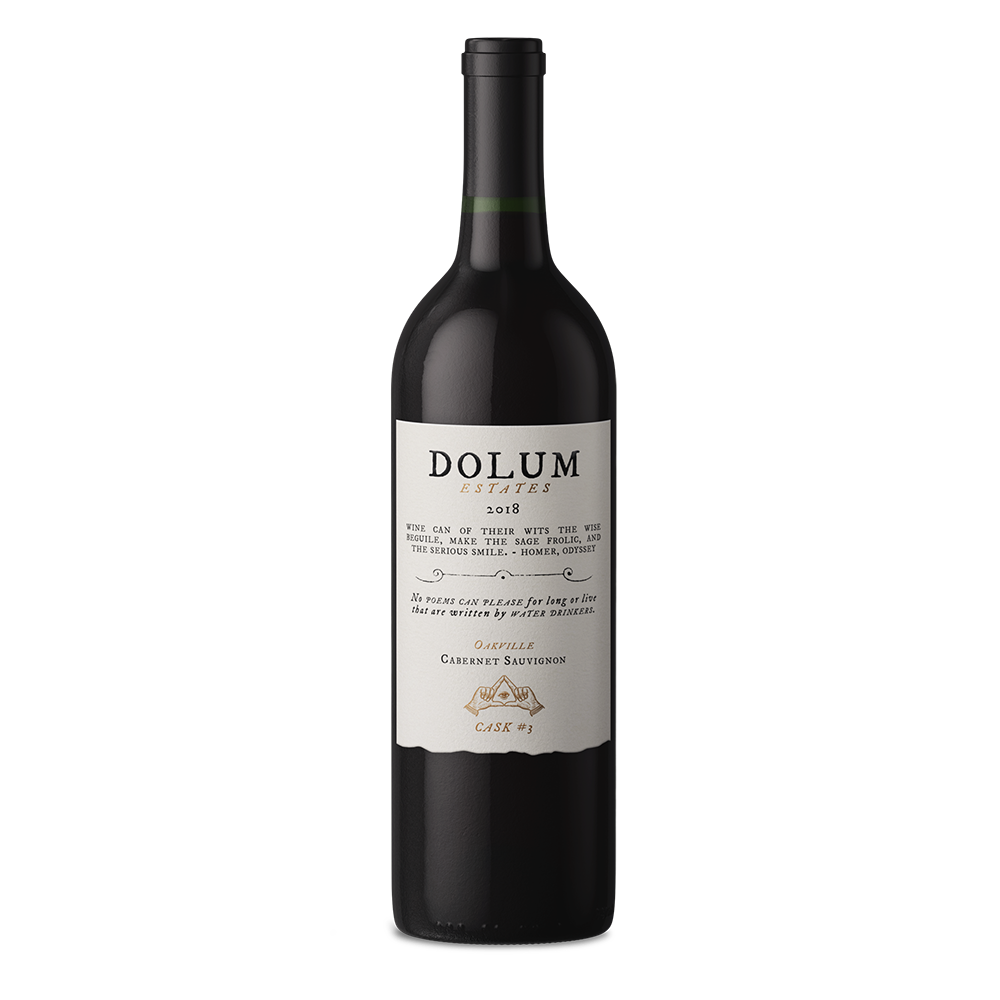 Tasting Notes
2018 Dolum Oakville Cask 3 is dark purple-black in color.
Aromas of black cherry, pipe tobacco and star anise with a whiff of new leather shaping the aromatics of this deeply fragrant Cabernet Sauvignon.
The intense, structured palate doles out black plum compote, classic Oakville graphite, crushed mint and a whiff of barrel toast. It's impeccably balanced, with firm, fine-grained tannins and fresh acidity. The Oakville region adds to the dynamic and alluring appeal.
$120 | Sold Out
© Dolum Estates - All Rights Reserved